Women over 50 are raving...
★ ★ ★ ★ ★
"This product does EXACTLY what it says it will do. My hair is coming back thick, full, shiny, luxurious and most of all HEALTHY!
-Deb
Mother Nature's solution to your mature hair problems.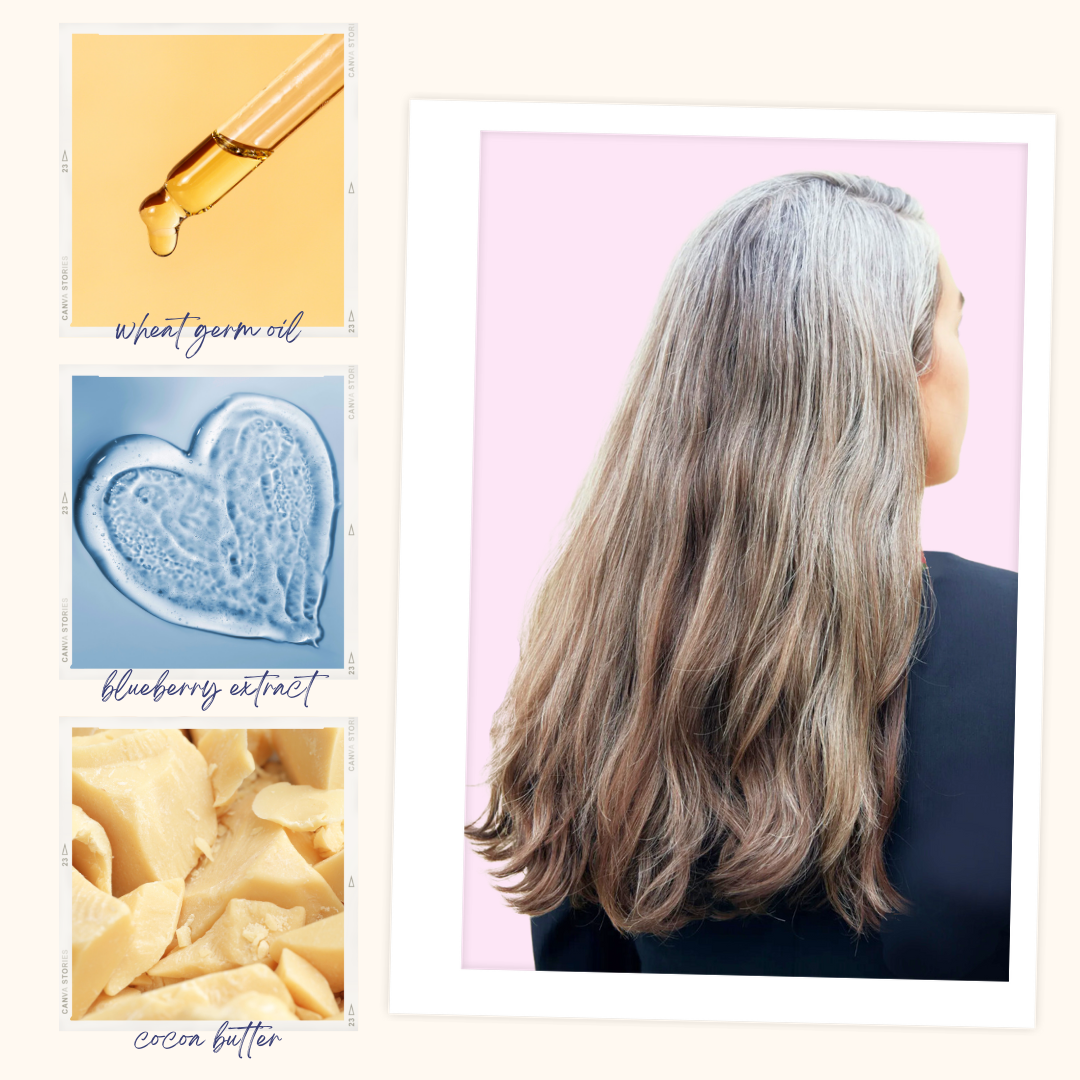 Thick, healthy hair for more confidence.
Changes in hormones can make mature hair thin, brittle and prone to hair loss.
Add strength, thickness and vitality to your locks with a powerful range of vitamins and antioxidants. Carefully selected to enhance growth and support mature scalp health. 
Blueberry extract stimulates follicles to promote growth

Cocoa butter nourishes scalp to prevent fall out

Wheat germ oil adds elasticity for less breakage

Antioxidants reduce oxidative stress and scalp ageing

Vitamin C in orange oil restores shine and radiance
Soft, smooth hair that styles itself.
As we age, our scalp produces less oil (sebum), which is needed for hydration and protection. Without enough of it, your hair becomes dry, brittle and frizzy!
Blueberry Fields is designed to restore hydration from the inside out, effectively smoothing frizz and completely transforming the look and feel of your hair.
Vitamin E binds moisture to every strand

Coconut oil locks in hydration to smooth frizz

Shea butter softens coarse and wiry hair

Absolutely no SLS, silicones or parabens

pH balanced to prevent moisture loss
Can we talk about price, please?
$34.99 for a shampoo and conditioner bundle might seem expensive for some people...
we respect that!
But when you understand how these bars work and how long they last compared to bottled shampoo - we hope you see that they are value for money.
Did you know that 70-80% of bottled shampoo is water!?
Our bars are 100% natural shampoo/conditioner ingredients and are why they last 75-90 washes depending on hair length. 
That's the equivalent of 3x shampoo bottles and 3x conditioner bottles!
To break the price down, for $34.99 you're getting the equivalent of 6 bottles of hair product. This averages out to be $5.83 per bottle.
Hand-making these bars inside the U.S.A and not in an overseas factory also means a superior level of detail is put into each  bar. 
Trying a new hair care product can be daunting. That's why we offer risk free trial so you can feel safe and secure with your purchase.
If you don't love it at anytime, for any reason, we will immediately refund you!
Women are raving about
Blueberry Fields

because its

given them their confidence back

...
★ ★ ★ ★ ★
"LOVE these bars. I've been using them for little over a month now and my hair loss has dramatically decreased"
-Claire
★ ★ ★ ★ ★
"My first bar has lasted me 18 months. I use it every other day"
-Mary
★ ★ ★ ★ ★
"I have very fine mature hair, and it has never, and i mean NEVER looked and felt so good as it has with your shampoo bars"
- Therese
★ ★ ★ ★ ★
"My hair is no longer falling out! It's so soft and shiny. I absolutely love this product"
-Lisa
★ ★ ★ ★ ★
"NEVER going back!! I am blown away! My hair is so soft...I have never had my hair feel this healthy"
- Natalie
★ ★ ★ ★ ★
"My hair has never looked so good, been as thick or soft before. I got a haircut last week and my hairdresser was impressed with the results. "
-Michelle
Our humble Humby mission:
To give you wholesome products. Ultimate transparency. Fair-trade. Conscious design. 
We started this community with $500 back in 2018 and thanks to your support we have already achieved so much together! 
Over 15 tonnes of plastic removed from supply chains

70,000 trees planted in the USA and Australia 

$30,000 donated to wildfire charities

5 million people have viewed our eco-friendly content
We are so proud to be a part of this ever evolving community. We hope to show you our gratitude by always being transparent and honest. And continuously working to provide you with the highest quality products.
When you purchase from us you not only get a product. You help local suppliers, artisans and employees. You help us to create more opportunities for a greater positive impact. And you help the planet. 
We hope that you join us and our global sustainable community in creating a better, earth-friendly future.
Team Humby x 
Frequently Asked Questions